It's not every day that a young 22-year-old violinist is compared to the legendary Stéphane Grappelli. It's even more uncanny when the world's best fingerstyle guitarist, Martin Taylor, who stood alongside Grappelli for 11 years after filling Django Reinhardt's spot, says listening to this young violinist is like a "déjà vu/déjà écouté experience." The tone that Grappelli achieved on the violin was so refined, so beautiful; he improvised so elegantly, and stayed true to the swing style, and that's why he was so very popular with classical music fans. (Think of the CD's with Yehudi Menuhin and Yo Yo Ma.) These are traits that Martin Taylor has recognized in Sandro Roy. SPIEGEL called Roy's first CD the "superb launch of a super-talent." RONDO dedicated two full pages to a portrait of the young artist. When he released his second CD, "Souvenir de Paris," in 2018, all of the daily papers devoted their attention to this young violinist.
Sandro Roy with Munich Radio Orchestra/
"…Surely one is permitted to make a comparison to the legendary jazz violinist Stéphane Grappelli." (Weser-Kurier, 14-08-2017)
"…An attractive 'devil's violinist'… Sandro Roy is worth taking a close look at, and listening to even more closely." Hamburger Abendblatt, 31-01-2018
"Jazz history has only produced a handful of truly superb mainstream violinists: Stéphane Grappelli, Joe Venutti, Stuff Smith, and Svend Asmussen. And now Sandro Roy, as well." (Rondo, Feb. 2018)
Sandro Roy at German TV ZDF "Morgenmagazin"
The ZDF-Morgenmagazin (ZDF Morning Show) brought Sandro Roy on to perform in 2015. (He was 20 years old at the time.) And German President Gauck had him play at a national event. The Deutsche Kammerphilharmonie (German Chamber Philharmonic) invited Roy to Bremen to perform as a soloist for an audience of nearly four thousand. Since then, he has demonstrated his enormous talent quite a few more times, performing at Europe's finest jazz club, Ronnie Scott's, in London, playing in the time-honored Prinz Regent Theatre in Munich, and more. In Munich, he was accompanied by the Munich Rundfunkorchester and a jazz trio of his own. The program boasted both written compositions, Sarasate's Gypsy Airs, and Monti Czardas' jazz treatments and improvisations. BR TV (Bavarian Broadcasting) recorded and broadcast the concert. It's true, those two pieces belong to many good violinists' set repertoires; but don't they say that "gypsy violinists" need to have a special kind of unattainable authenticity when they play these kinds of pieces? It's not unlike that "special something" that African-Americans bring to playing the blues.
Sandro Roy CD "Souvenir de Paris"/ Duett with Roby Lakatos
In September 2019, Sandro Roy performed with Amsterdam's Concertgebouw Chamber Orchestra. The program there featured Bach and Ravel – but a few days earlier, at the Hamburg Laieszhalle, Roy also gave a pure jazz concert.
One project of Roy's with Martin Taylor is called "Dear Stéphane" (violin, guitar, bass). Taylor is considered by many jazz musicians to be the best solo guitarist. Among his fans are big names like Steve Jobs and Nelson Mandela. Taylor was granted the rank of MBE by Queen Elizabeth. On the occasion of the Queen's Golden Jubilee, the BBC brought Taylor to perform his "Django Spirit Suite"with the Liverpool Philharmonic at the Last Night of the Proms.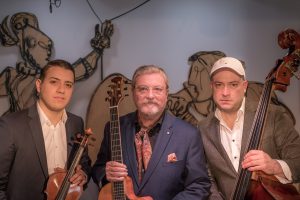 More about Martin Taylor:
Biography
There are many indications that in Sandro Roy, born 1994 in Augsburg, Bavaria a very promising musician has matured, from whom the music world will soon hear quite a lot. A classically trained violinist who at age thirteen won first place at the state-wide competition Jugendmusiziert. But he is also a jazz player and has already played and had his own band with Bireli Lagrene and Stochelo Rosenberg. In 2015 he performed at the Rheingau Musical Festival, which is one of the biggest classical music festival in Germany as well as at St Ingbert Jazz Festival as a special guest by the famous Roby Lakatos and Bireli Lagrène. He also was invited to perform and to teach gypsy jazz in Northampton, Massachusetts, in the USA in the same year.
At the same time, Sandro Roy's CV bears every resemblance to that of the story of the classical soloist: early-recognized talent, careful support from his parents, first-rate schooling (with Jens Ellermann, the teacher of Midori as well as Nigel Kennedy), prize-winner in important competitions (state-wide prize at Jugendmusiziert at age thirteen), and successful performances as a soloist (the Glasunow violin concert in Munich and Augsburg).
But Sandro Roy has also had another musical upbringing that has made him into a universal musician AND performer. He is a classical as well as a jazz musician, he has the art of improvisation at his disposal, he plays more than one instrument, and he composes. In the musical Gypsy family where Sandro grew up, playing and learning classical music, jazz, or whatever genre was practiced as a matter of course. Sandro learned to recognize the different genres with their complexity in harmony, rhythm, style, and expression by ear in his early years, even before he could read or write. While most people only encounter their role models on records or in concerts, the young Sandro often found himself up close and personal with well-known musicians when they played in his parents' living room. Sandro used a bow for the first time at roughly age two with the help of Sanyi Jaroka, who is – particularly in Eastern Europe – so highly revered. And none other than the guitarist Bireli Lagrène, one of the world's best, who was there just as often, gave Sandro the most important and most sustained inspiration to improvise – and to play the guitar. Because Sandro is not only a violinist but also a jazz guitarist ready for the stage.
With the first CD, Where I Come From (skip records), Sandro Roy demonstrates his diversity capably and self-confidently. It includes the self-composed "J.L. Swing" as well as jazz standards such as Miles Davis's "Tune Up", A.C. Jobim's "Triste", H. Mancini's "Two for the Road", and classic hits such as "Zigeunerweisen" and "Caprice Viennois".
Only in January 2018 Sandro released his 2nd CD "Souvenir de Paris".